Entry-level backup
and synchronization
for Mac OS X
Only $29.99!
ChronoSync Express is the entry-level version of ChronoSync, the complete file synchronization and backup utility for Mac OS X. It offers a reduced feature set at a reduced price. Most of your backup and file synchronization needs can be met with ChronoSync Express. If you need more power and flexibility, you can choose ChronoSync instead.
Features
Folder Synchronization
Standard Backup
Automated Scheduling
Sync & Backup Previews with Trial Sync
Archiving Replaced & Deleted Files
Full User Interface for Restoring
Extensive Rule System for File Filtering
Explicit Exclusions and Forced Copies
Local and Email Notifications
High-Performance File Copying
Compatible with ChronoAgent & InterConneX
… and much more!
ChronoSync Express vs. ChronoSync
Feature
CSX
CS
Backup or sync files in your Home folder.
Backup or sync files in other user's Home folders.
Backup or sync System files.
Creates bootable backups.
SmartScan Technology for faster syncs and backups.
Backup or sync to File Servers.
Automatically mount File Servers.
Mount File Servers with custom credentials.
Connect to other Macs via ChronoAgent.
Connect to iPads and iPhones via InterConneX.
Schedule syncs or backups at custom intervals.
Advanced Scheduling Options.
Wakes from sleep to run scheduled syncs or backups.
Execute scripts before, during, and after syncs and backups.
Post email and system notifications.
Send email notifications via third-party email clients.
Send Notifications to your iPhone via ChronoMonitor.
Full working trial version available.
Run on multiple Macs that you personally use.
*An earlier version of ChronoSync is available for 10.5 and greater.
Synchronize
What kind of synchronizations can ChronoSync Express perform?


MAC TO MAC

ChronoSync Express automates the old hassles of keeping your laptop and desktop computers in sync. If you are dealing with more than one Mac, no problem! ChronoSync Express can synchronize from a central Mac to multiple Macs. Whether it's a few files or tens-of-thousands, ChronoSync Express is up to the task.


MAC TO IPHONE / IPAD

If you have a set of files that you need to keep synchronized between a Mac and an iPhone or iPad then the combination of ChronoSync Express and InterConneX is the answer. InterConneX is a free iOS app that connects directly to ChronoSync Express running on a Mac.


MAC TO SOMETHING ELSE

If you need to sync files with a Windows PC, between a shared NAS, a central file server, a shared external hard drive, or whatever you can mount as a volume on your Mac, ChronoSync Express has got you covered.
Backup
Use a computer long enough and you WILL lose data. The only question is, how catastrophic will the loss be? Having a backup simply means that you have redundant copies of all your precious files. An effective backup strategy ensures these copies are current and readily accessible. ChronoSync Express can be an effective component of that strategy!


BACKUP ANY FILES YOU WANT...


ChronoSync Express can backup specific file types, specific folders, or your entire home folder! Add ChronoAgent to the mix and it can even backup other user accounts and make bootable backups of your hard drive. It can handle most backup scenarios you can imagine.


...TO ANY DEVICE YOU WANT


ChronoSync Express can place backed up data on virtually anything you can connect to your Mac. This includes internal hard drives, external hard drives, flash drives, other Macs, PC's, external drives, NAS drives or any other type of volume you can mount on your desktop. Perform remote backups by connecting to file servers using standard file sharing or use ChronoAgent. You can even backup to iPhones and iPads by combining ChronoSync and InterConneX!
Scheduling
The "Chrono" in ChronoSync refers to time — as in run your synchronizations any time you'd like. ChronoSync offers powerful scheduling capabilities that allow you to schedule any synchronization document to run at virtually any time interval you can imagine. Schedule as many documents as you'd like. You can even have the same document run at different time intervals. If your Mac is turned off and ChronoSync misses a schedule, it will make it up the next time you start your Mac. You can even have ChronoSync wake up your Mac to run a scheduled synchronization! ChronoSync supports event-based schedules, too. For example, you can trigger a synchronization to run when a drive is connected to your computer or when you mount a specific file server.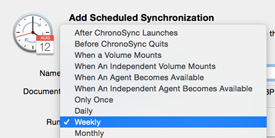 Synchronizer or Container documents can be scheduled to run any minute, hour, day, week, month, or any combination you can come up with.